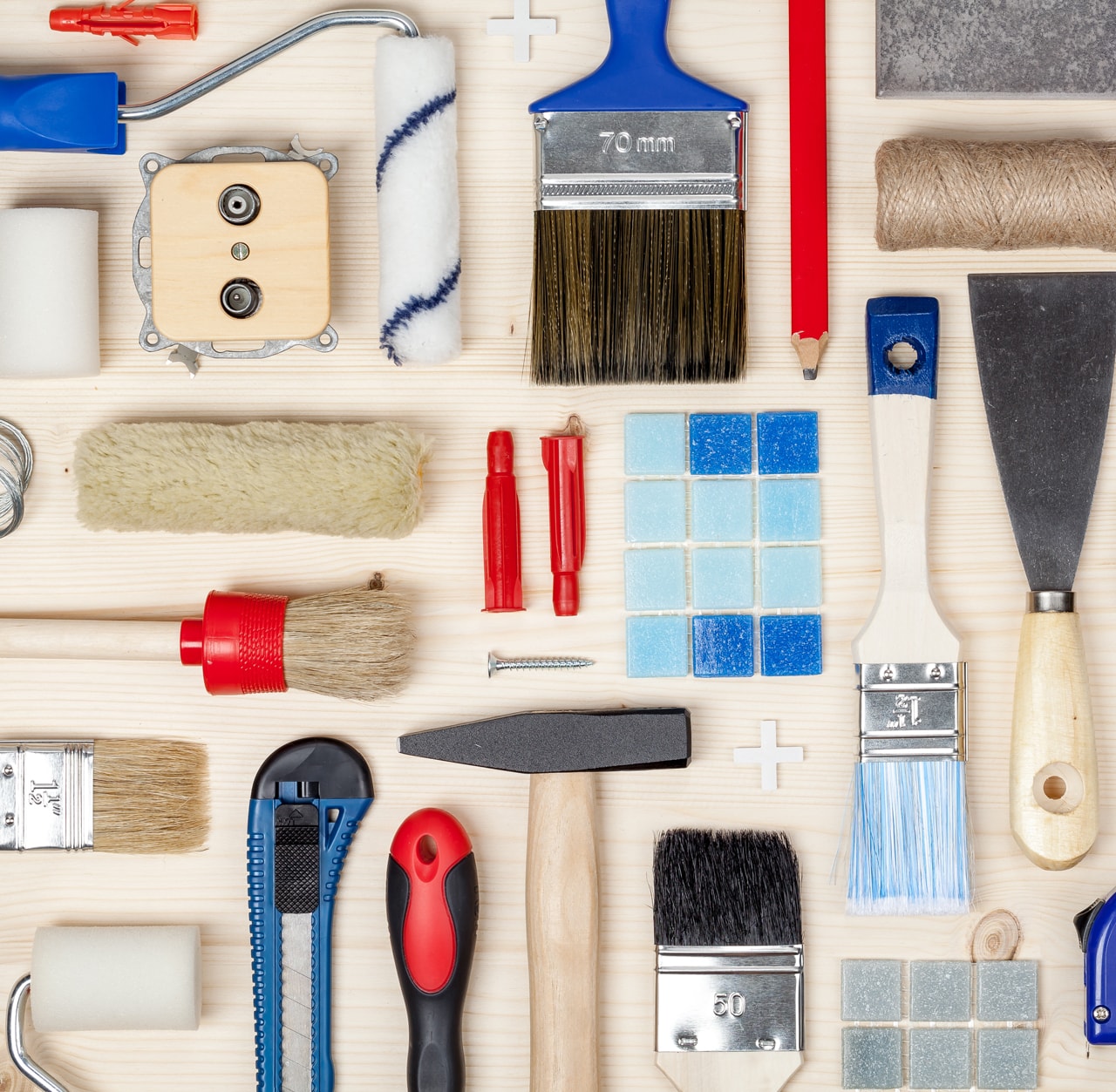 Tools & Sundries
When it's time to get painting, make sure you have the right tools for the job. From applicators to safety gear to cleaners, our selection of brand name tools and sundries has your covered.
Find a Listing of Brands We Carry
3M is a producer of innovative personal health and safety products that provide the highest in quality and safety. Their specialized masking tape and respirators, for example, exceed the needs of even the most stringent safety requirements. You can rest assured that when wearing 3M safety products, you're wearing quality.

When it comes to fighting mould, Concrobium Mold Control® is a great, eco-friendly solution. Its all-natural formula eliminates mould and keeps is from returning. Using no harmful chemicals, like bleach, ammonia or VOCs, this product works as it dries, covering the mould with a hard, invisible film that physically crushes the growth. It requires no scrubbing and remains on the surface to provide continued defence against regrowth.

Hand-built with a keen attention to detail, Corona brushes are made to produce a smooth, even stroke every time. Their quality paint brushes and rollers are ideal for professional painters who desire the pinnacle of painting products, but they're also great for first-timers who want professional-grade equipment for their home projects.

In need of that precise painting tool? Dynamic has the answer. From specialty paint brushes to wallpaper tools, and from rollers to faux finish applicators, Dynamic's line of quality paint products are there to fulfill all your decorating needs. Whether you're a professional contractor or an enthusiastic do-it-yourselfer, Dynamic has the tool for any painting job.

Designed to be used with latex paint, FrogTape® is a cutting-edge painting product that utilizes innovative new technology. Using its specialty PaintBlock® technology, a cross-linked, sodium-based superabsorbent polymer, FrogTape® forms a micro-barrier down the tape edge, keeping out paint bleed and producing results that industry professionals would be proud of.

Since its inception in 1982, Grime Eater has produced a unique line of hand cleaners, lotion and foam soaps, and alcohol-based sanitary hand gel. This Canadian company's premium skin care products are for tough jobs requiring robust hand cleaners that are easy on the body but tough on dirt, grime, paint and other messy remains.

For over a century, Klingspor has been a leading manufacturer of high-grade abrasives. They have over 50,000 products that can be found in 80 countries across the globe – a feat no other abrasive manufacture can lay claim to. As such, we make sure to carry a wide selection of their sandpaper and abrasive discs to deliver that quality to your workshop.

Since 1876, LePage has been a leader in supplying the Canadian do-it-yourself market with adhesives. Their quality contact cement provides superior bonding strength while their wood and wall fillers are ideal for repairing cracks, dents and holes on a variety of surfaces.

OLFA is a well-known and respected name in the cutting tools market. The company's founder, Yoshio Okada, developed and released the world's first snap-off blade, revolutionizing how professionals and do-it-yourselfers cut materials. OLFA continues this tradition of innovation and quality today, providing premium cutting tools for markets all over the world.

First started in a garage in 1925, Purdy Professional Painting Tools has grown to be one of the most distinguished names in the paintbrush industry. The original Purdy brushes were handcrafted to ensure superior performance when painting, and that desire to create a quality product still remains in their brushes and wall and trim rollers today.

Since 1890, Richard has been a trusted name for a variety of innovative tools that have helped to shape the industry. Their selection of preparation, repair and drywall tools are all designed to make jobs easier for the user without sacrificing the quality of a reliable product.

Considered one of the world's three leading suppliers of innovative abrasive systems, sia Abrasives is a Swiss brand that creates products designed to meet various requirements and applications. Their sanding sponges, for example, provide a smooth finish to even the roughest of surfaces. With a 135-year track record you can be sure sia is a name synonymous with quality and reliability.

While the name may sound comical, there is nothing funny about the quality of a Whizz roller. These painting tools come in a variety of sizes to accommodate different projects. Their larger rollers will help you efficiently finish those bigger projects, while their smaller rollers are ideal for more precise painting.

Roman's brands have been rated number one by a large margin of professional paperhangers. They are rated No. 1 in sales, innovation and quality. Known as an innovator in the industry, Roman was the first to introduce pre-mixed wallcovering adhesives, wallcovering primers, vinyl over vinyl adhesive and many other innovative products in the wallcovering industry that are a standard on store shelves today.

At Sashco, they take pride in building products that work, last, and outperform the competition. Sashco continually improve Sashco products by taking customer ideas and turn them into new solutions to address your toughest home repair issues. Whether you're looking to repair a cracked driveway, fix a leaky gutter, or recaulk your bathtub, Sashco has the right caulking products for you. When it comes to sealants, picking the right product for the job is critical, that's why they have a complete line of solutions specifically formulated for your success.

Over the past 7 years, the Radius 360° has simply changed how professionals sand paint and drywall. The 9″ diameter head provides unparalleled range of motion and finish quality. Full Circle International is pleased to introduce the future of sanding. The redesigned Radius 360° is the same great tool with the added ability to transform your pole sander to a handheld sander, or to switch out the round shape for the triangular head of the new Trigon180° sanding tool for detail corner sanding.